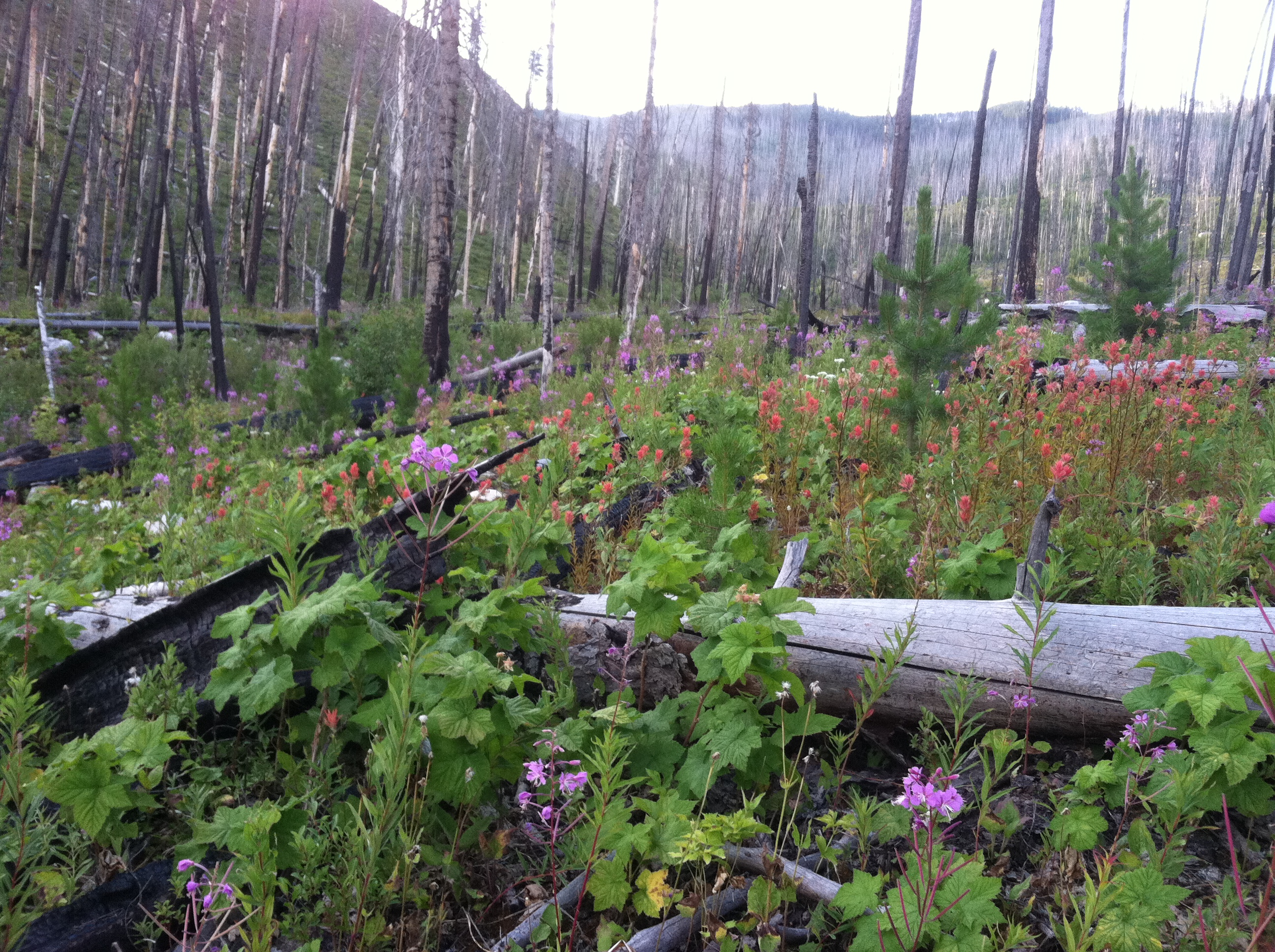 Long-Term Vegetation Recovery and Reburn Potential
Central Idaho Fire and Fuels Workshop
This workshop brought local area and regional managers and scientists together to share recent research findings and discuss their implications for vegetation and wildland fire management. The workshop was designed to facilitate an exchange of ideas between scientists and managers and to encourage collaboration on developing post-fire vegetation management and wildland fire management strategies.
Northern Rockies Fire Science Network partnered with the University of Idaho (Eva Strand), Rocky Mountain Research Station (Andrew Hudak), Pacific Northwest Research Station (Paul Hessburg and Nick Povak) and University of Washington (Susan Prichard) to coordinate this workshop.
Workshop Presentations
Burn severity: Past, present and future - Penny Morgan (presented by Andrew Hudak)
Fuel longevity, accumulation following wildfire - Camille Stevens-Rumann
Landscape-scale vegetation recovery trends from Landsat time series analysis - Benjamin Bright
The role of fire refugia in ecosystem recovery - Arjan Meddens
A decade of ecosystem monitoring: Vegetation and soil response to fire and management in mixed conifer forests - Sarah Lewis
Does burn severity affect plant community diversity and composition in western conifer forests 10 years post-fire? - Eva Strand
Functional group responses to burn severity in three ponderosa pine ecosystems a decade after fire - Beth Newingham
Influence of past burn mosaics to future fire behavior and implications for management - Susan Prichard and Robert Gray
Long term effects of fuel treatments in a ponderosa pine forest post-fire - Jessie Dodge
Assessing post-wildfire regeneration: Non-destructive conifer seedling aging - Darcy Hammond
Related Publications
Birch et al. 2015 - Vegetation, topography and daily weather influenced burn severity in central Idaho and western Montana forests
Hudak et al. 2018 - How vegetation recovery and fuel conditions in past fires influences fuels and future fire management in five western U.S. ecosystems - JFSP Final Report
Hudak et al. 2018 - The Cooney Ridge Fire Experiment: An Early Operation to Relate Pre-, Active, and Post-Fire Field and Remotely Sensed Measurements
Lewis et al. 2017 - Indicators of burn severity at extended temporal scales: A decade of ecosystem response in mixed conifer forests of western Montana
Meddens et al. 2018 - Spatiotemporal patterns of unburned areas within fire perimeters in the northwestern United States from 1984 to 2014
Meddens et al. 2016 - Detecting unburned areas within wildfire perimeters using Landsat and ancillary data across the northwestern United States
Morgan et al. 2017 - Multidecadal trends in area burned with high severity in the Selway-Bitterroot Wilderness Area 1880-2012
Morgan et al. 2015 - Vegetation response to burn severity, native grass seeding, and salvage logging
Prichard et al. 2017 - Tamm Review: Shifting global fire regimes: Lessons from reburns and research needs
Stevens-Rumann and Morgan 2016 - Repeated wildfires alter forest recovery of mixed-conifer ecosystems
Stevens-Rumann et al. 2016 - Prior wildfires influence burn severity of subsequent large fires
Stevens-Rumann et al. 2014 - The effects of previous wildfires on subsequent wildfire behavior and post-wildfire recovery
To stay informed of upcoming events, new resources, and current tools relevant to the Northern Rockies and beyond, sign up to receive the Northern Rockies Fire Science Newsletter. 
Event Details
Jun 11 2018, 1 - 7pm
Jun 12 2018, 7am - 7pm
Jun 13 2018, 7am - 12:30pm
Hot Topic(s):