In partnership with scientists and managers, we produce and sponsor story maps to share information about specific topics in support of fire and fuels management.
February 22, 2023
A partnership among NRFSN, Yosemite National Park, and the Interagency Fuel Treatment Decision Support System team used a prescribed burn in the Mariposa Grove at Yosemite National Park as a compelling example of how to use IFTDSS when developing a burn plan. This story map, Protecting Giants, walks through the specific elements of a burn plan that users can directly and easily create in IFTDSS.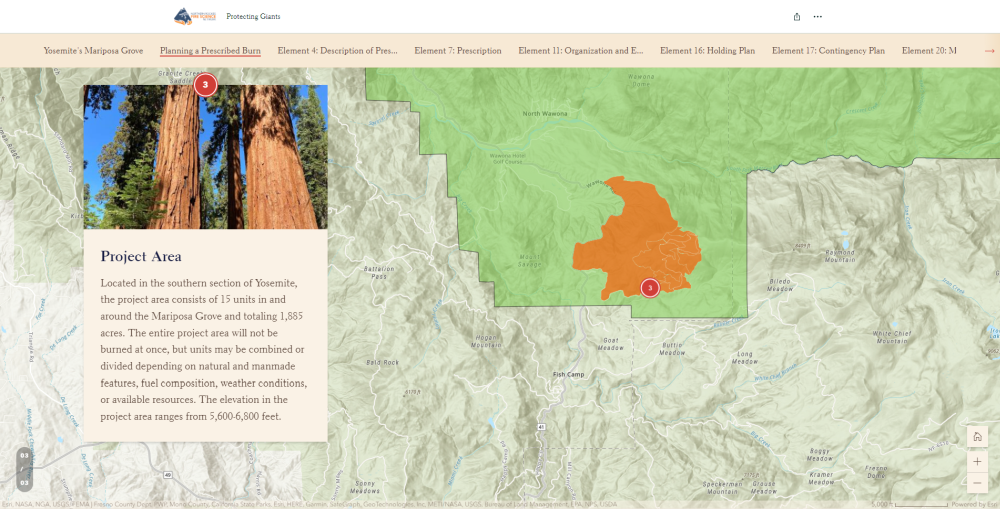 February 28, 2022
The Interagency Fuels Treatment Decision Support System (IFTDSS) is a web-based application designed to make fuels treatment planning and analysis more efficient and effective. The program was developed in coordination with fire managers and provides access to data and models through one simple user interface. It is available, free, to all interested users, regardless of agency or organizational affiliation. It was designed for use at the Project (100s-1,000s ac) and Unit scales (1,000s to 3.5M ac). 
This story map provides an overview of the components and uses for IFTDSS and includes many links to additional resources. It was created by the Northern Rockies Fire Science Network and the Wildland Fire Management RD&A, .