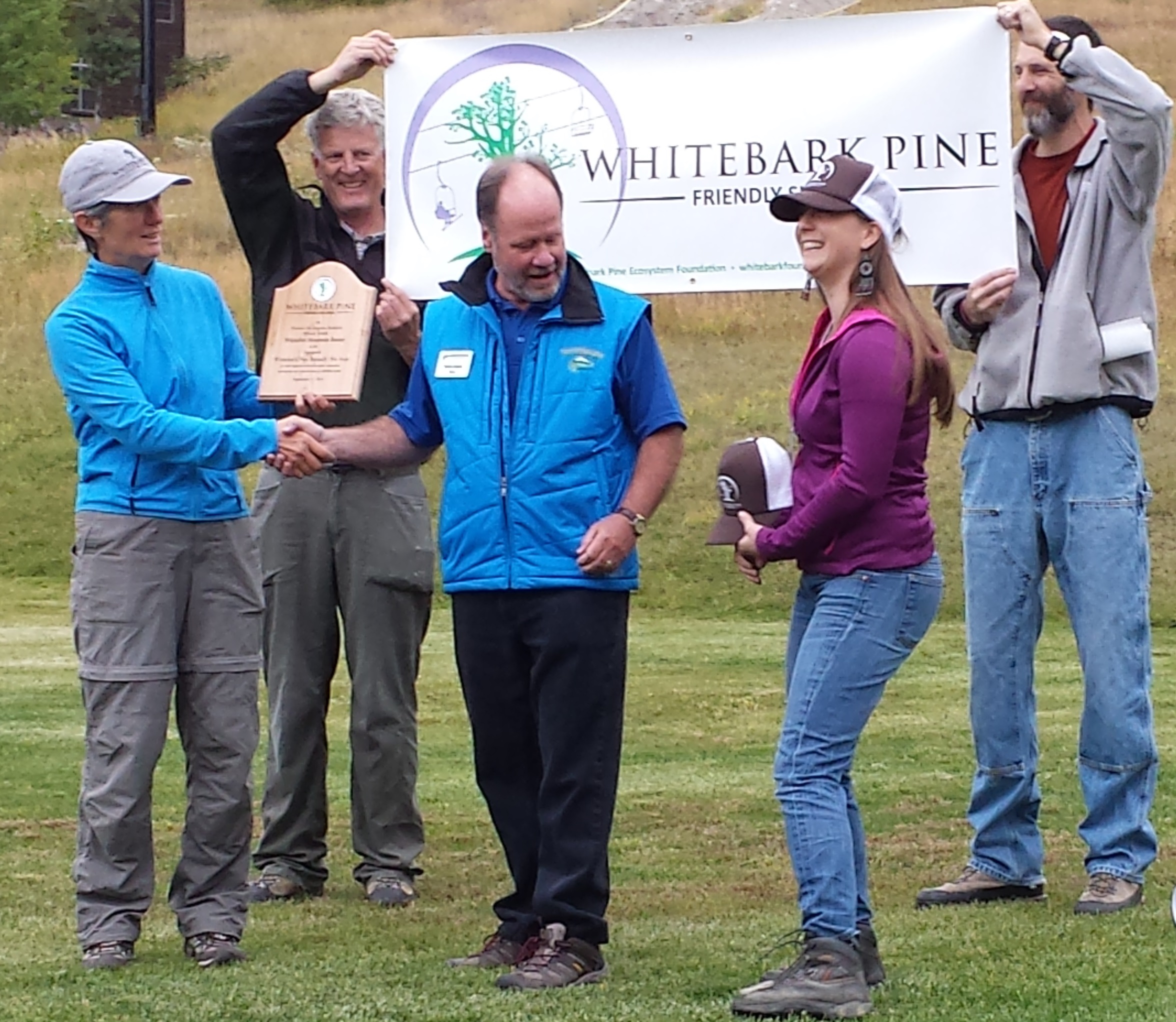 In 2016, the Northern Rockies Fire Science Network partnered with the Whitebark Pine Ecosystem Foundation (WPEF) to host the annual WPEF Science Meeting and Workshop, September 16-18 in Whitefish, Montana. This year's workshop theme was Whitebark Pine - Successes and Challenges in Managing the Jewel in the Crown of the Continent. 
Indoor science presentations covered the full range of whitebark pine restoration and conservation topics. Recordings of these presentations are now available (see below). Field trips on Saturday and Sunday toured portions of the Whitefish Mountain Resort and Glacier National Park and included recognition of the first "Whitebark Friendly" ski area, whitebark pine tree climbing and cone collecting demonstrations, and a tour of Glacier National Park's native plant nursery. 
To learn more about designation of the first Whitebark Pine Friendly Ski Area in North America, read the Field Trip Summary of this event, Conserving whitebark pine in ski areas - Demonstrations at Whitefish Mountain Resort. 
Workshop Science Presentations were recorded and are available below -
Climate Change and Potential Impacts
Adaptation to Climate Change: Embracing Natural Selection and Genetics in Whitebark Pine Restoration, Diana L. Six, Professor, University of Montana (20:49)
Future Climate Suitability for Mountain Pine Beetle Outbreaks in the Crown of the Continent, Polly C. Buotte, Postdoc, University of Idaho (19:15)
Ecological Importance
Functional Role of Whitebark Pine at Treeline Across its Rocky Mountain Range, Diana Tomback, Professor, University of Colorado-Denver and Director, WPEF (21:44)
Key Considerations for Managing the Clark's Nutcracker-Whitebark Pine Mutualism, Taza Schaming, Research Associate, Northern Rockies Conservation Cooperative (20:05)
Fire Effects 
Effects of Fire in Whitebark Pine Communities of the Alpine-Treeline Ecotone, C. Alina Cansler, Research Ecologist, University of Washington (19:29)
Management Approaches
Keynote - Restoring and Conserving Five-Needle Pine in the Crown of the Continent: A Multi-Stakeholder Approach to Cross-Border Collaboration, Regan Nelson, Crown Conservation Initiative Coordinator (25:20)
Whitebark Pine on the Flathead Indian Reservation: Re-evaluating the Resource for the 21st Century, Rick Everett, Program Director Wildland Fire Sciences, Department of Forestry, Salish Kootenai College (22:25)
Species Status Assessment (SSA) for Whitebark Pine: An Analytical Approach for Informing Decisions and Activities Under the Endangered Species Act, Amy C Nicholas, Biologist, US Fish and Wildlife Service (17:16)
A 20-Year Reassessment of the Health and Status of Whitebark Pine Forests in the Bob Marshall Wilderness Complex, Using Citizen Science, Carol Treadwell, Executive Director, Bob Marshall Wilderness Foundation (14:05) 
Pests and Susceptibility
Rapidly Emerging Trends in Southeast British Columbia, Michael Murray, Forest Pathologist, BC Ministry of Forests (19:08) 
Change in Blister Rust Infection in Whitebark and Limber Pine in the Canadian Rocky Mountains (2003-2014), Brenda Shepherd, Conservation Biologist, Jasper National Park, Canada (13:18)
Is British Columbia the Black Sheep of Whitebark Pine? Randy Moody, Chair, Whitebark Pine Ecosystem Foundation Canada (15:20)
Restoration
Will Whitebark Pine Restoration Still Work in the Crown Under Future Climates? Bob Keane, Supervisory Research Ecologist, USFS Rocky Mountain Research Station (17:46)
The Ecological Effects of Thinning Treatments to Restore Whitebark Pine, Colin Maher, Ph.D. Candidate, Department of Ecosystem and Conservation Sciences, University of Montana (18:58)
Geologic and Genetic Implications of Restoring Whitebark Pine Under Climate Change: Suitable Substrate, Blister Rust Resistance, and Drought Tolerance, Mary Frances Mahalovich, Regional Geneticist, USFS Northern, Rocky Mountain, Southwestern, and Intermountain Regions (19:46)
Inoculation of Whitebark Pine Seedlings with Native Ectomycorrhizal Fungi, Cathy L. Cripps, Associate Professor, Montana State University (24:53)
Successes and Challenges of Whitebark Pine Restoration in Glacier National Park, Jen Asebrook, Botanist, Glacier National Park (16:16) 
Event Details
Sep 16 2016, 12am - Sep 18 2016, 12am
Hot Topic(s):