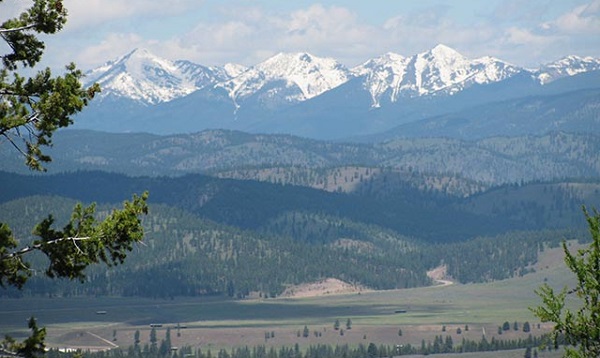 The Lubrecht Experimental Forest is a 28,000-acre outdoor laboratory and classroom located 30 miles northeast of Missoula, Montana, in the Blackfoot River drainage. The University of Montana's Forest and Conservation Experiment Station and the Montana Department of State Lands jointly own and cooperatively manage the forest. 
Almost 80% of the Lubrecht Experimental Forest is a mix of Douglas-fir (Pseudotsuga menziesii) and ponderosa pine (Pinus ponderosa). Open ponderosa pine stands with grassy openings dominate low-elevation, south-facing slopes, and Douglas-fir dominates north- and east-facing slopes. Approximately 10% of the forest is covered with dense stands of lodgepole pine (P. contorta) that established following wildfires. 
Research and Resources -
Fire - Fire Surrogate Study (FFS): The Lubrecht Experimental Forest is home to 1 of 13 national study sites used to evaluate the effects of thinning and burning treatments on vegetation, fuels, wildfire potential and behavior, and ecosystem structure and processes in frequently burned, fire-adapted forests. Many of the resources below were part of the national and/or western Montana portion of the FFS study. 
Fire treatment effects on vegetation structure, fuels, and potential fire severity in western US forests
The national fire and fire surrogate study: effects of fuel reduction methods on forest vegetation structure and fuels
Fire and Bark Beetles:
Response of bark beetles and their natural enemies to fire and fire surrogate treatments in mixed-conifer forests in western Montana
Fire Behavior: 
Developing a computerized approach for optimizing individual tree removal to efficiently reduce crown fire potential
Fire Effects - Plants: 
Lubrecht State Experimental Forest prescribed fire effects study 1973-2006
Evaluation of a post-fire tree mortality model for western USA conifers
Restoration treatment effects on the understory of ponderosa pine/Douglas-fir forests in western Montana, USA
Using bark char codes to predict post-fire cambium mortality
Vegetation response to restoration treatments in ponderosa pine-Douglas-fir forests 
Fire Effects - Soils: 
Effects of selection harvest and prescribed fire on the soil nitrogen status of ponderosa pine forests
Nitrogen spatial heterogeneity influences diversity following restoration in a ponderosa pine forest, Montana
Restoration treatments in a Montana ponderosa pine forest: effects on soil physical, chemical, and biological properties
Short-term effects of forest restoration management on non-symbiotic nitrogen-fixation in western Montana
Fire History: 
Fire history of western Montana forested landscapes via tree-ring analyses
Fuels Assessments & Monitoring: 
Assessing the performance of sampling designs for measuring abundance of understory plants after forest restoration
Deriving fuel mass by size class in Douglas-fir (Pseudotsuga menziesii) using terrestrial laser scanning
Fuel Treatments & Prescriptions: 
Postharvest residue burning under alternative silvicultural practices 
Fuel Treatments & Prescriptions - Effectiveness: 
Restoration treatment effects on stand structure, tree growth, and fire hazard in a ponderosa pine/Douglas-fir forest in Montana