Sparking Community Conversations through Art from Fire Fighters and Fire Managers
The Conversations Through the Smoke wildfire art exhibit connected the creative voices of artists and fire practitioners with communities in the Northern Rockies that have been highly affected by recent fires and smoke. Including art and reflections by 15 fire managers, firefighters and fire researchers, the art was on display in New Meadows, Moscow, and Salmon, Idaho, and in Seeley Lake, Montana, in September-October 2018.
With so many large fires and so much smoke in recent decades, and more to come, communities need conversations. Community members realize that they will have longer seasons of fires and smoke. "I realize that a summer without smoke from wildfires is not an option, but I hope to see more smoke in the spring and fall from prescribed burns and less smoke from wildfires in the summer," said artist Matthew Burks of Portland, OR. The art show and discussions encouraged people to look to the future, and the artists and scientists sought to make a difference with this exhibition. Another artist, Tonja Opperman, said  "Fire behavior prediction involves fire science, knowing the 'art' of fire, and some computer wizardry. Wildfire can indeed be destructive, but in the natural environment, fire means renewal, regrowth, and a diverse landscape patchwork."
"Fire is ever changing. Many men and women see fire as being scary. Some only see its intensity and its destructiveness. However, I also see fire as incredibly unique, mesmerizing, and beautiful. This is the way I try to capture it." - Artist Jessica Shuey, former firefighter
The exhibit provided a backdrop for community discussions about fire science and management. Maps of past fires, smoke, and the wildland urban interface across the West were presented, inviting viewers to think about:
How can we adapt to a future with more large fires and more smoke?
How can we have more fires burn under less extreme conditions in order to lessen the costs of fire relative to the benefits?
How can communities become more fire-adapted and smoke-ready in fire-resilient landscapes? 
Conversations Through the Smoke sparked diverse discussions about the future of large wildfires and smoke, which we hope will have lasting impacts in these communities. The juried art pieces were especially valuable in sparking individual conversations about the personal experiences of visitors. 
"My desire to make a real contribution, however small, to the protection of the natural world drew me to wildland fire, and keeps me here now. Amid the fear of the flames themselves, and of the sinister changes that our ever-lengthening fire seasons foreshadow, the fire is glorious. I had no idea how beautiful it could be" - Artist Rebecca Paterson, park ranger and fire information officer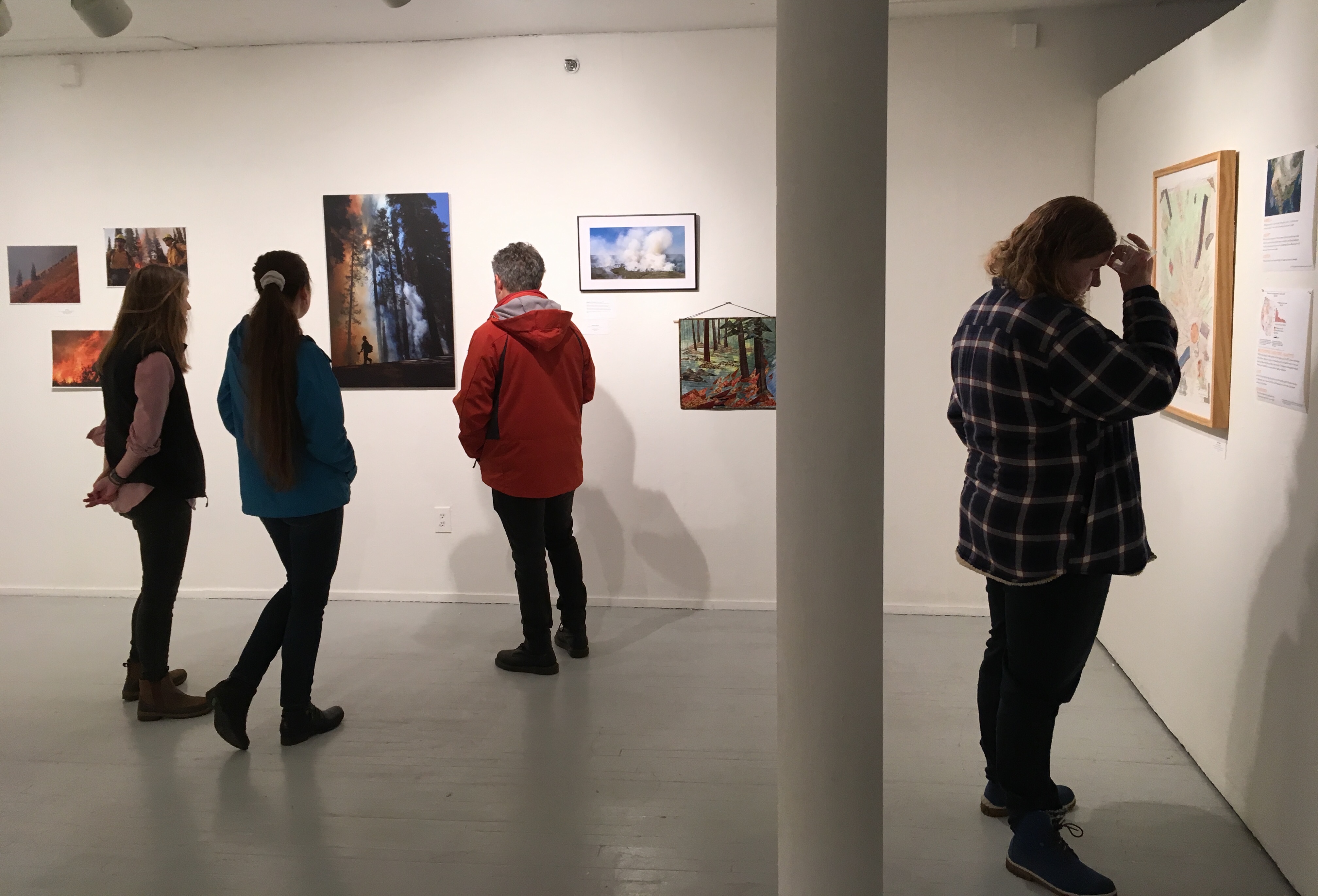 Some visual conversations focused on land, others on people. Meghan Kirkwood's photography looked at the "relationship between land use, management, and values towards the natural environment." Much of the open community discussions focused on implications of fire for our shared future. "My interest in fire is directly related to my interest in supporting local Indigenous Peoples' efforts to reclaim their Cultural Burning practices….I have been inspired by my community's efforts to restore fire back to the land and to the people," said Heather Rickard, a Karuk Tribal member from Somes Bar, CA.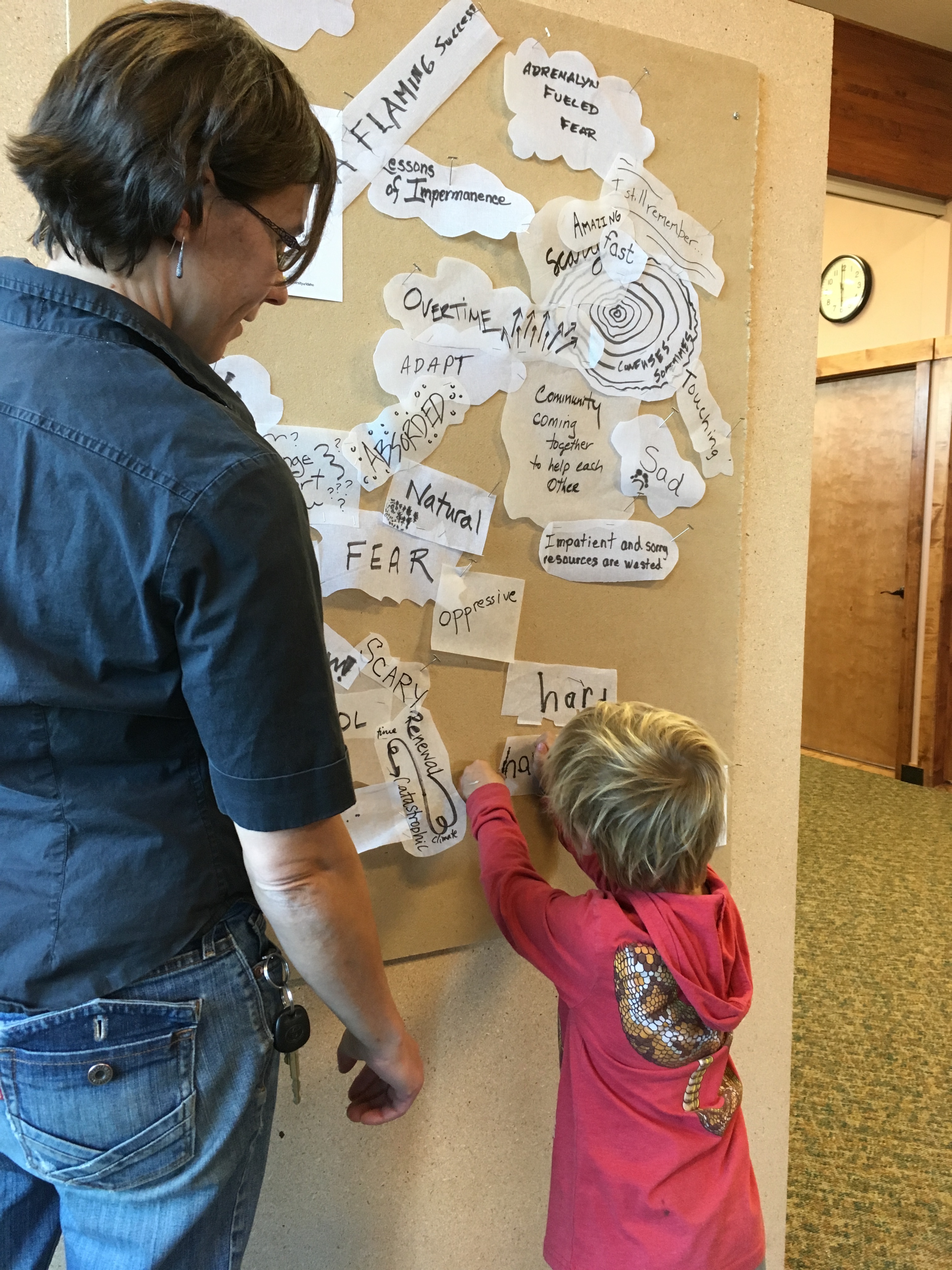 One of the most engaging parts for some was a participatory artwork exercise where visitors were welcome to draw out their own words when considering the impacts fire and smoke have had in their environment. Fifth graders in Moscow wrote one of their own that is on display at their school. In Seeley Lake, 7th and 8th graders can see their poem at the school; the words they chose reflected their intense experiences with fire and smoke in 2017 and since.
The work was humbly displayed but reverently taken in by more than 500 people. This project was sponsored by the Northern Rockies Fire Science Network and led by Penny Morgan, professor in the University of Idaho's College of Natural Resources, and Stacy Isenbarger, associate professor of art and design at the University of Idaho's College of Art and Architecture. Many thanks to the artists for sharing their works to spark greater conversation about fire science.
Check out the right sidebar for links to images of the art and artist biographies. Event photos seen on this page were taken by Stacy Isenbarger. See the many great photos from the event on our Facebook event page, @ConvosThruSmoke.
Event Details
Sep 1 - Oct 19 2018, All day