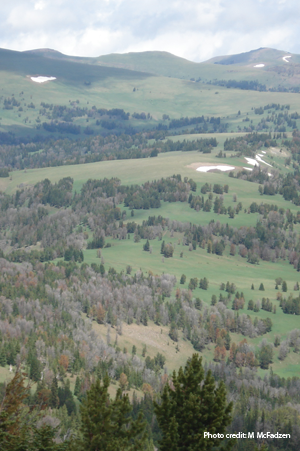 The Northern Rockies Fire Science Network teamed up with the Whitebark Pine Ecosystem Foundation for their 13th Whitebark Pine Ecosystem Science and Management Workshop in Bozeman, MT. The theme of this year's meeting was Challenges of whitebark pine restoration.
On Friday, Sept 20, the meeting consisted of plenary talks, contributed presentations, and an interactive panel. On Saturday, Sept 21, attendees took a field trip to a whitebark pine restoration site in the Gallatin Mountains.
Field trip summary - Whitebark pine restoration challenges - Restoration site visists in the Bridger Mountains
Workshop presentations are now available online at Whitebark Pine Ecosystem Foundation.
Event Details
Sep 20 2013, 12am - Sep 21 2013, 12am
Hot Topic(s):