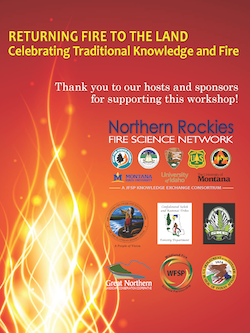 Sponsored by the Northern Rockies Fire Science Network, Salish Kootenai College, Confederated Salish and Kootenai Tribes, and the University of Idaho, this November 2012 field trip and workshop started with discussions of why and how fire was traditionally used on the land and then explored challenges to incorporating traditional knowledge and scientific ecological knowledge into fire management. 
This workshop followed a 2010 workshop in Polson, Montana, which was sponsored by the Joint Fire Science Program, University of Washington, and Rocky Mountain Research Station. The 2010 workshop participants recommended holding workshops on reservations that bring keepers of traditional knowledge together with representatives of management entities, practitioners, and academic and research institutions. This was our goal with the 2012 workshop.
In 2012, attendees included 63 tribal members, managers, researchers, and students who were interested in working collaboratively on fire management issues across tribal and nontribal jurisdictions. We are grateful to the Tribal Elders who participated.
For additional traditional knowledge and fire resources or for more information on the follow-up 2014 workshop, visit Crafting Solutions for Management of Large Wildland Fires and Prescribed Fires Across Tribal and Nontribal Jurisdictions.
A journal article on the findings from this and the 2014 workshop has been published: Returning fire to the land - Celebrating traditional knowledge and fire.
For more information on the 2010 workshop, see Listening and learning from traditional knowledge and western science.
Keynote recording, The Creator's Gift of Fire: Traditional Knowledge, Responsibility, and World Renewal, presented in November 2012 by Frank Lake, USFS - PSW Research Station and Bill Tripp, Karuk Tribe. 
Recording(s)
Presenter(s):
Frank K. Lake, Bill Tripp