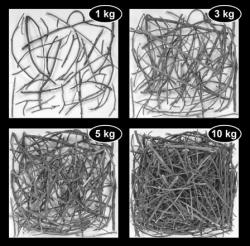 Wildland fire researchers and fire managers need better estimates of surface fuel loadings but getting accurate estimates takes time and resources. A relatively new fuel sampling system, called the photoload sampling technique, has been developed to quickly and accurately estimate loadings for six surface fuel components using downward-looking photographs that depict graduated fuel loadings. The user simply matches the fuel loading conditions observed on the ground with conditions portrayed in a set of graduated photographs. This webinar explained how to use the photoload technique. Materials are available here to teach photoload to others, to calibrate photoload visual estimates to improve accuracy, and to create photoloads of your own.  More information on photoload can be found in this video. 
This webinar was presented by Dr. Robert Keane, Research Ecologist with the USDA Forest Service Rocky Mountain Research Station Fire Sciences Laboratory. 
Webinar Recording
To stay informed of upcoming events, new resources, and current tools relevant to the Northern Rockies and beyond, sign up to receive the Northern Rockies Fire Science Newsletter.
Recording(s)
Presenter(s):
Robert E. Keane