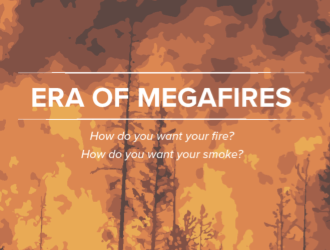 The Era of Megafires was a 70-minute, multi-media presentation hosted by Dr. Paul Hessburg, who has conducted fire and landscape ecology research for more than 27 years. The presented material came in the form of fast-moving, short, topic-based talks interspersed with compelling video vignettes and featured the work of wildfire photographer, John Marshall. The videos were produced by award-winning documentary film company, North 40 Productions, of Wenatchee, WA. 
The presentation was designed to educate audiences across the West so that they may better participate in the conversation and solutions surrounding the Megafire issue. If you couldn't make it to one of these events, check out this short TedX talk that Dr. Hessburg gave in April. 
Several partners including Idaho Firewise, USFS, and many local groups worked together to bring the Era of Megafires to Idaho. Presentations were held in Coeur d'Alene (May 1), Sandpoint (May 2), Moscow (May 3), McCall (May 15), Boise (May 16), Twin Falls (May 17), and Pocatello (May 18).
An additional presentation was held at the Sacajawea Center in Salmon, Idaho, on October 11, 2017. Sponsors for this event included U.S. Forest Service Intermountain Region, Salmon-Challis National Forest and the Northern Rockies Fire Science Network.